#1 Google Maps Plugin for WordPress
Display Posts on Google Maps
Export/Import Locations using CSV.
Filters, Sorting & Search Listing
Marker Clustering, Layers & Routes.
Clickable Shapes - Polygon, Polylines, Circle & Rectangles
Custom Markers & Info window Contents
Buy Now - Instant Download
Google Maps Examples
We have created examples to demonstrate you power of this google maps plugin.
How to Get Started?
Creating simple or advanced google maps is super easy. You can import thousands of location, configure your maps and display on page. It takes only few seconds.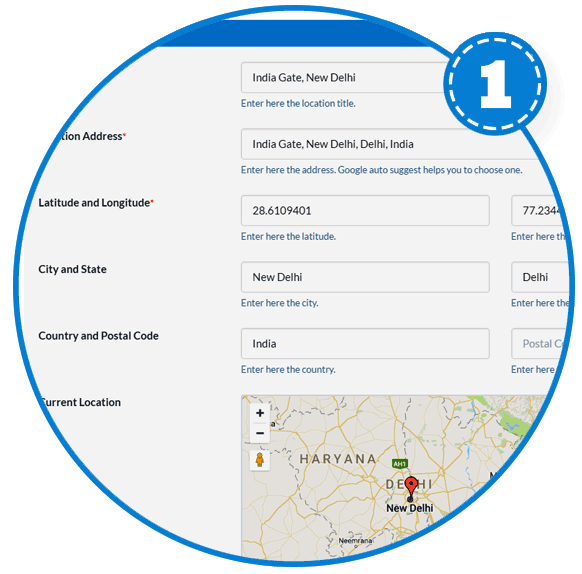 Choose your Locations/Posts
There are multiple ways to add markers source in the plugin.
Add location manually with help of google autosuggest. Attach unlimited extra fields to your location. Assign multiple categories with custom marker icons.
You can import thousands of location usign CSV. Sample csv with example is included in plugin package.
or You can geo tags to your posts or custom posts type using google maps meta box. You can assign a post to multiple maps easily.
Assign your locations to Maps
You can assign your locations or posts to the map in 3 ways.
Choose your manually added locations on add map page
Assign your posts to the map using google maps meta box.
Assigns your posts to the map using geo tags if location information is saved in your own custom fields.
Copy Shortcode and Paste
Go to manage maps and copy map shortcode and paste on your page. You can display maps in sidebar using map widget.
Premium Features
Unlimited Locations, Maps & Categories
Display unlimited locations on a map with categories for better usability.
+500 Readymade or Choose Your Own Icons
Assign +500 readymade icons to your locations. Choose your own marker icon using media manager.
Elegantly Responsive across all devices
Maps are fully responsive and look great across all devices.
Export/Import Using CSV - Unlimited Location Fields
Our import tool enables you to import locations in bulk, and you can then assign those locations to any number of maps.
External Data Source Supported
This plugin lets you connect external sources using hooks and synchronise your maps with external data sources.
Display Posts, Pages or Custom Post Types on Maps
It's super easy to display your posts, pages or custom post types over maps and display post information on a marker click.
Unlimited Shapes - Polygon, Circles, Polylines & Rectangles
Highlight areas on Google Maps with your own colors, opacity and stroke width in the form of circles, rectangles, polygons or polylines.
Beautiful Maps Skins
Beautify your Google Maps with skins to suit your individual needs, or a custom theme with the help of snazzymaps.com, and let your own creativity take over!
Layers - KML, KMZ, Traffic & Bicycle
Implement Fusions,Bicycle, KML and KMZ layers are available on Google Maps individually or using multiple layers.
Too Many Markers? Apply Marker Cluster in Seconds
Too many markers? Implement marker clusters with just few simple clicks!.
Listing Direcory - Search, Filter, Pagination & Fully Customizable
Displaying location listings with own data,filters and pagination is now super easy.
Display Multiple Routes on Maps - Way Points Supported
Riding a tour? Or have a planned tour map? Show your route with your own colors, width and opacity on google maps.